Photo: Scott "Dr. Music" Itter

Cherie Currie: The Neon Angel Shines Brighter Than Ever Before
The former lead singer of The Runaways talks about her latest record, her love of chainsaw carving, and her biggest regret(s)
By Scott "Dr. Music" Itter
Cherie Currie may be the most loving, most forgiving and most trusting human being I've ever known. As I spoke with her on a busy Saturday afternoon, I felt like I was being embraced. Sure, we talked about her latest album Reverie, and we spoke at length about Kim Fowley and her time in The Runaways, but we also spoke about life. Just as she put any anger or negativity aside to benefit her child and nurture the relationship with her ex-husband, she has done the same with all of the nightmares that she has lived through in her past. She has washed away any hatred and resentment, and lives her daily life in a positive light.
When I had the honor of speaking with Cherie Currie she was dogsitting for her ex-husband and best friend, actor Robert Hays. She's made it abundantly clear over the years that her relationship with her ex-husband is one of caring, love and respect. It's extremely rare to see a relationship like theirs, so I had to ask Currie about it. "When we realized we were going to get a divorce, we had seen some couples with children really damage their kids. I mean seriously damage their kids by showing a lot of hate and all this kind of stuff. The kids, they're the ones that suffer. Bob and I, we just said we're not going to let it happen." She went on to explain, 'We did love each other. We cared for each other. The two of us, we've always kind of just been better off alone." As I started thinking about this unique relationship and the way it was fielded by Currie, I started to see a direct connection between this relationship and the way she has handled the rest of her life and career.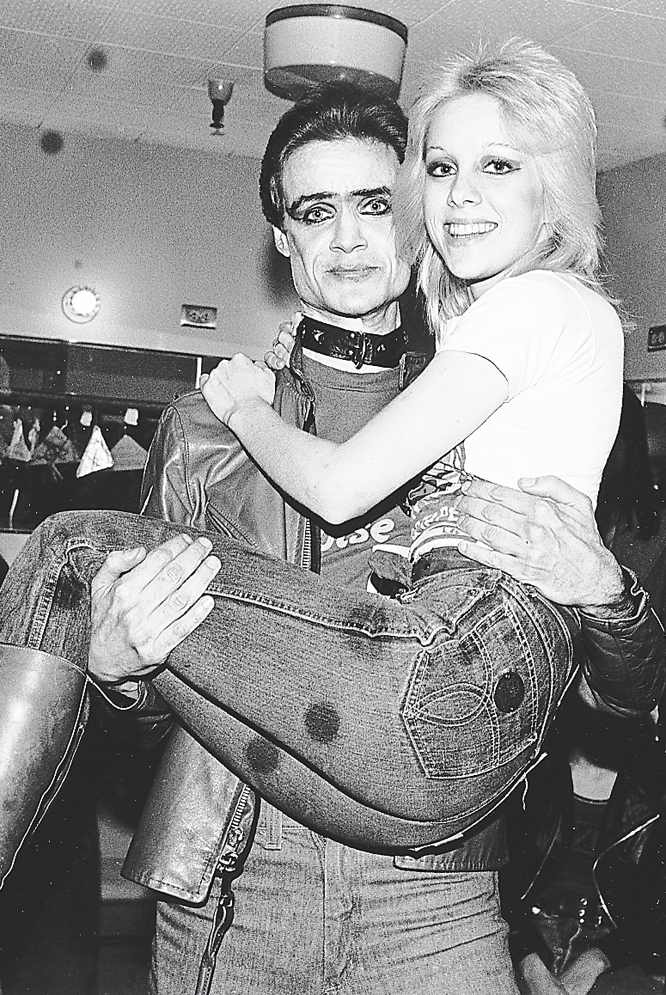 KIM FOWLEY
You might think that Runaways manager and mastermind Kim Fowley would be a person exempt from Currie's forgiving heart, but you would be sorely mistaken. If you've read Currie's book Neon Angel: A Memoir Of A Runaway, you know that Fowley did some things that would land him in handcuffs in today's world. We talked about her relationship with the recently deceased Fowley, "Jake [Hays, Currie's son] had heard some not great things about Kim for the first half of his life, and I just realized that this was only hurting me. And after being a parent, I realized what it took for Kim to have to deal with five teenage girls. How is a man who had a horrible childhood, I mean horrible, and had no kids, going to handle this? You know, he did the best he could, and he did apologize to me. My heart had to go out to him because I knew it had to have been really difficult for him to figure out how to be a dad, when he didn't have a dad himself really. As you grow older you realize that there are different circumstances and different sides to why things happen. It's just not all your own." Currie and Fowley went on to become friends, and when it became known that Fowley had fallen ill they started communicating on a more regular basis. "I kind of mentioned that I would work with Kim Fowley again, and when that got back to him he reached out and said, 'Do you want to make a record?' And of course I did." She continued, "I've never seen anyone write like Kim. He was brilliant; a brilliant lyricist. He never missed a beat, he would tell you what to play, and he would just start singing. You never had to go back and rewrite his lyrics, he was that good." As she spoke about taking her son Jake to a writing session with Fowley she told him, "You're writing will forever change." He ended up writing four songs with Fowley, which are now documented on Currie's latest album, Reverie. "Kim did come and live with me for eight days, then unfortunately he got so ill that I had to call 911 and get him to a hospital. He was not well. But I'm very glad I got to take care of him for those eight days."
About twenty years back Currie and The Runaways were in court suing Fowley and Polygram Records for the Runaways name and a portion of the profits that they thought they were due. "That was like 18 years ago where we sued Polygram and Kim for the name and to get our royalties. We never made any money. And also me, having to pay the IRS to the tune of $20,000. When I was 17 they came after me. That was the only bandmate that the IRS came after. Back then, I'm 17 years old, I wasn't making any money, and I had to pay them $100 a month every month. After I married Bob I think I owed $2,300, and Bob just paid that off for me. But, to have to pay the IRS that money for all those years, of money I never made, you build a lot of resentment behind that kind of stuff. But the thing is, that was all gone. It was nice that when he passed away I considered him a loving friend." Hearing Currie talk about the negative events felt unnatural and awkward. It was as if she was revisiting a realm that she had long since left behind. Sounding like a stranger in a strange land, the natural direction of the conversation always started to head in a more positive direction the more she spoke. "I got to sing for him, a song that he had done with Cliff [Retallick], his keyboard player," she said. "Cliff is a wonderful man, who also wrote a song on the album called 'I'm Happy' with Kim. I was able to perform this one song for him that I just thought was so beautiful. Hopefully something will happen with that song. I'll never forget it." She starts to chuckle as she fondly remembers the time, "Kim orchestrating me with his hands, telling me when to hit the harmonies… just the kindness in his face - that will always be the memory I will have of Kim Fowley. None of the other stuff. Just sitting in my bed in the guest room, orchestrating me from the bed. That's a nice way to remember someone."
LITA FORD
"I'm just really happy that I got to do the last sitting studio record that Kim had a piece in helping to create. That means a lot to me. And Lita coming to sing a couple of songs with me was really kind of her."
Currie's relationship with Lita Ford is another one that wasn't always positive. She has said that, along with all the other pressures, Ford was the reason she ultimately left The Runaways. She's also made it clear that she feared Ford and her fierce attitude. As both ladies have matured, they appear to have left any resentment or anger behind.
Ford sings on three tracks from Currie's Reverie album, and they have actually been seen performing together at random events in recent years. In 2013, the pair even cut a Christmas single called "Rock This Christmas Down".
(Click the photo to download the single from iTunes.)


"Well, I just wish her so well," Currie said. "I want her to be happy in her life, and I want to be happy in my life. That's what I wish for everybody, honestly - just to be happy and be fulfilled," she said. "Sometimes you just have to wipe everything away. Like you're clearing a table, wipe it all away and just start over again. I'll tell you, hanging on to the past, it does no good whatsoever. It holds you back. It's a really good feeling to let it all go and just go on and do what makes you happy. "
REVERIE
Cherie Currie's latest record, entitled Reverie, is a mature outing that comes after a drought of some 35 years. Kim Fowley signed on to oversee production of the entire album, but fell ill early on. "On the fourth day of recording, Kim was just too ill to come into the studio, so he asked Jake to take over, and Jake did. But unfortunately, Jake was dealing with his band, Maudlin Strangers, and dealing with trying to get a record done with me. So it took far longer, almost a year, to complete this record."


In 2010, after a hugely successful opening slot for Joan Jett, there had been some talk of another record being recorded with Matt Sorum for Jett's Blackheart Records label, that had guests like Slash and Duff from Guns N' Roses, and Billy Corgan of The Smashing Pumpkins. When I asked Currie about the status of those sessions she was brief and still a bit frustrated, and simply said, "It's just been so many years, I don't know how to answer that anymore." She still expressed a desire to have that record see the light of day at some point, but sticking to her successful life philosophy, she has wiped this slate clean as well. She has moved past the negative vibe of that record, and has moved on to an immensely positive Reverie record.

When I asked what song I should listen to if I only had time for one from Reverie, she proudly said, "Probably… wow…. 'Shades' or 'Believe,' 'Believe' I think is a good one, too. But I'd say 'Shades'." "Shades Of Me" is an excellent song that finds Currie doing a duet with son, Jake Hays. The song really showcases Hays and his voice. She went on to explain the song, "Jake wrote 'Shades' for the Matt Sorum record, but it had been re-written to Matt's specifications, and after five years I just told Jake, 'Let's record your original version. The one that you wrote.' And that's what we did. I wanted to do a duet with him, which he kind of argued that he didn't want to. He thought that I should just do it on my own. I convinced him to do a duet with me, and the more I heard him sing it the more I wanted him to sing more of it. He's got an amazing voice, and he's a great lyricist and a great writer. That song really features Jake and I'm so proud of him." When I asked about guitarist Mitch Perry's performance on the song, the mood was even further elevated, "Oh, Mitch! I've known him for a lot of years. I played him the song and he said, 'I really like that. I'd love to play on that.' I had originally wanted him to do the solo, but I really wanted it to be very Pink Floyd-ish. That's the way I heard it. But, he came up with this idea to do the slide guitar, so that's what we had him do. He did a great job, and then Jake did the lead."

(Click on the album cover art above to read the Dr. Music review of Reverie. You can download Reverie from iTunes here: https://itunes.apple.com/us/album/reverie/id976269503)
Photo: Tom Gold

THE RUNAWAYS
When Currie was merely 15-years old, she was thrown into the spotlight with The Runaways and sent off to tour the U.S. as well as Japan. Having a 15-year old daughter myself, I admitted that I couldn't even imagine allowing my child to take on such an adventure. She went on to explain her thoughts about letting her own son do what she had done so many years back, "When Jake was 15 just turning 16, and I saw how young he was, I was just shocked and amazed. I'm grateful that our parents let us do that because there's no way I would've let him do it." It really was a double-edged sword. The young members of The Runaways were lucky to be involved in something that changed the face of music and the world, yet it wasn't always a fun adventure. There is a lot of tragedy in their story, especially Currie's. "You know what, I do feel we come into this Earth agreeing to whatever it is this life is going to give us. What is that saying? 'God never gives you more than you can handle.' I believe that. I do. I really feel if I didn't believe that a lot of the bad stuff, even here in my later life with the Matt Sorum record and all this other stuff, if I didn't feel it was all part of some kind of plan, I think it would really leave me empty and angry."
The Runaways was built upon raw rock star sexuality and teen angst. Currie explains the methods that were used to maintain that energy and eventually lead to the demise of the band, "Kim used to spread rumors about the band. He felt we should be kind of angry with one another. He'd make all this stuff up because he thought it would give us an edge on stage. When you're that young you don't know who you really are, it's all an act. So, he thought that was going to be beneficial. The thing is, after a couple years of that, it just turned us all against each other and we never spoke. We stopped talking to each other." Cherie Currie left The Runaways in the Fall of 1977.
What does the 55-year old Cherie say to the 15-year old Cherie?
"I would say, 'Forgive yourself.' Forgive yourself, and forgive everyone else. You know, if you take blame for something, there's just this weight that is lifted off of you. If you're angry about something and you're focusing that anger towards somebody else like you're a victim, it just weighs you down. As soon as you turn around and say, 'I had a part in this as well and I'm taking responsibility,' it's almost like your head opens up and this rainbow comes out of it! It's the strangest feeling! People should try it sometime because it really does open your soul when you say 'I take responsibility for this.'"


CHAINSAW CHICK
When hearing Cherie Currie talk about music, it's obvious that her passion is still very much alive. Listening to her talk about her love of chainsaw carving is a whole other animal altogether. It's pretty apparent that her carving is where she finds her inner peace. She talks of it like it is vital to life. You get the feeling that she would not be able to breathe if she couldn't express herself through her amazing art.


"I went through a very deep depression just this last year where I literally didn't leave my house,
and I just was trying to understand what I was supposed to be doing here. Then I just recently picked up the chainsaw again and realized, this is what changed my life before, it's going to change my life again." After closing a public gallery some time ago, Currie now carves from her California home. "People would come, they knew who I was, and they would bring me their albums and stuff for me to sign. I was carving and someone came up behind me and touched my shoulder and it scared me. I realized then that I cannot have a gallery open to the public, I just can't. I could get injured or injure somebody else. I closed the gallery and built a place at my home." She continued, "I just do special orders, anything they want. If they have a design, I do one-of-a-kind sculptures. I think the craziest one was a goat holding a butcher knife for this knife company. He was one mean looking goat!" Aside from creating business pieces, Currie has done personal work for other celebrities and tribute pieces as well, most notably a stunning mermaid statue for her fallen bandmate and friend, Sandy West. There's no doubt that chainsaw carving has gotten Currie through some rough times and it continues to be the road to serenity for her in her adult life.

(You can link to Cherie Currie's Chainsaw Chick website by clicking the photo above.)
FACEBOOK
"I used to be on Facebook all the time and I just couldn't take it. I feel really bad for the young people these days. There are people that don't don't know me at all, but they talk as if they do, and they talk and say things about me that just literally made me want to leave the business. It's hard to explain but going back to my artwork and what I'm good at, and what I love doing that I'm in control of, changed that to where I could take it. There's some people out there that just really resent me; resent me for leaving The Runaways. That's how crazy they are! As much as I love people - and I do love people, and I love the fans, I love them SO much - I have contemplated just selling my house, getting a little cabin somewhere, and walking away from all of it. I worry for the young people who have to live in this nastiness, and it really is nasty nasty stuff." She continued, "My son just laughs his ass off if he sees anybody say anything that's a little off kilt. He just thinks it's the funniest thing. He doesn't take anything seriously, he doesn't care. Even if somebody says something derogatory about him, he laughs! I want to get to where he's at."
"I think we all want the same thing. We want to be proud of ourselves, proud of our accomplishments, whether we failed or whether we didn't fail. We just want to be happy. We want to be able to have that right, without being judged at every turn. That's all I want for people, even people that hate me. I just want them to not have that in their heart. Just like with me and Kim Fowley, it's going to hurt them in the long run. They have to carry that weight. I don't have to carry that weight anymore. I just want happiness for you and for me, and I even want the jerks to be happy!"
LOOKING BACK AND CHARGING FORWARD
In keeping with her clean slate philosophy in life, I had to wonder if there was anything she couldn't let go of. Did she have any regrets? I didn't expect what was coming next.
"Yeah, that I got a boob job," she said. It was 1988, I was a fitness trainer at the time. My two sisters had had that done and I had no desire to in any way, but I kinda let my sisters talk me into it, basically. I was so muscular, they were saying 'Oh yuck! You have to do something about that!' I guess my pec muscles were a little too large for little boobs. That's what happens when you're insecure. When people you love or friends you trust say something that makes you feel like you're not good enough. Not that my sisters were attempting to do that, but people don't realize sometimes that the littlest things can make you do something that you never would've done otherwise if they hadn't have said anything. That's a huge regret of mine. I never liked them when I got them. I haven't liked them as I've had them. That's the one thing, I wish I never would've done that to my body."
With that said, I found Cherie Currie to be a person that lives life with little regret. She is a person that likes to move on; to continue down a constructive path of life. As she walks her road, she stops to nurture each and every relationship that crosses her path, with no relationship too small to ignore. From the adoring fans to her dearest family members, Cherie Currie cares and nurtures each relationship with trust, love and respect.
I received an incredible amount of information and insight into who Cherie Currie really is when I spoke with her, but there is one answer in particular that means the most to me. I asked Currie to recount the proudest moment of her career; a moment that stands out as one of the greatest in her incredible life. What she said is something that made this adoring fan smile from ear to ear. "I don't think that's come yet," she said. "I think I'm still searching for that moment." You might ask why that response is so monumental. It means that fans will continue to have Cherie Currie in their lives as she continues to search for her defining moment. You just keep on searching Cherie, and I will plan to follow your bright shining spirit each and every step of the way.



Photo: Robert Hays