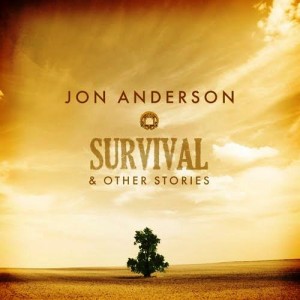 Jon Anderson - Survival and Other Stories
For more than 35 years, Jon Anderson has been the immediately recognizable voice of progressive rockers Yes. But, when Anderson was diagnosed with acute respiratory failure in May of 2008, Yes was forced to cancel their upcoming summer tour. His bandmates moved swiftly to find a replacement frontman, leaving Anderson on the outside looking in.
During his time away from Yes, Anderson has been busy making music on many levels. This Survival release is one of his more unique adventures in the way that it came together. Anderson invited the members of Yes to create music with him via the internet, but got little or no response. Seeing the internet as a worthy tool, he decided to post the invitation on his website. He asked people to send in one minute clips of their music, and in turn received a wealth of response. Survival and Other Stories is the result of those responses. I should say that it is a portion of the result. He is set to release two more CD's of material from those responses in the next two years.
You can expect to hear the Jon Anderson voice that you've known in the past. He is in fine form on these songs. As a matter of fact, the vocals are brought forward quite a bit in the mix. His voice stands naked and vulnerable at center stage, and it shines with a wonderful enlightening spirit.
After dazzling us with a string section and an electric sound on the opening track ("New New World"), we find much of the disc to be acoustic in nature, with an upbeat and spiritual flavor. Some of these songs sound like they could be part of The Lion King soundtrack because of the occasional chant ("New New World," "Love And Understanding"), some close ties to African rhythms, and an uplifting feeling of spiritual rebirth. Songs like "Understanding Truth," "Unbroken Spirit" and "Just One Man" are tender pieces of music that find Anderson giving lilting, organic performances. It almost feels as if you can reach out and touch his voice, creating a very intimate musical experience.
It's almost impossible to hear Jon Anderson and not relate it to the sound of Yes, but these songs do have their own personality, though. Of course they sound a bit like Yes, but with the exception of a couple tracks ("New New World," "Love of the Life"), these are not Yes-type songs. These songs feel much more personal. Perhaps the most personal song on the record, "Unbroken Spirit," is a song that is eloquent and deep, and far removed from any kind of Yes vibe. "Big Buddha Song" is also a personal song with an incredibly bright and cheerful tone, but again it seems far removed from anything that might appear on a Yes record.
Jon Anderson has obtained the best of both worlds with this record. He will forever be the voice of Yes, whether he's part of that band or not. But this album has given Anderson a new identity. I feel like I've gotten to know a different Jon Anderson by listening to these songs. And the best part of it all as a listener? No matter what Jon Anderson you choose to listen to, you can't go wrong.